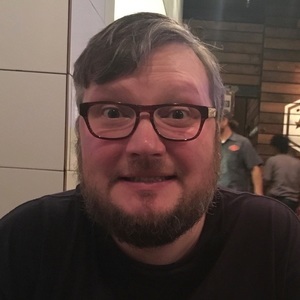 Brad Tarver
Co-Host of Infinite Loopback
Brad Tarver is a network security engineer living in Jackson, MS. He hoards music and guitars, comics, horror films, books, tools and toys. He studies new tech trends with his favorite Pomeranian at his feet and is an amateur chef and DIYer.
Brad Tarver has hosted 83 Episodes.
August 21st, 2016 | 58 mins 58 secs

We might be getting a Space Black iPhone for the first time ever. Jim talk about his new phone case. Twitter might be live streaming NFL games on Apple TV T-Mobile has brought back the unlimited data plan but HD video is $25/mo extra, tethering...

August 12th, 2016 | 45 mins 30 secs

Follow up Friend of the show, @berial, updated us via Twitter that Xbox One will not be adding DVR functionality for OTA broadcasts, Jim is very disappointed.  Brian points out there's a pricey alternative.    Mark Gurman,...